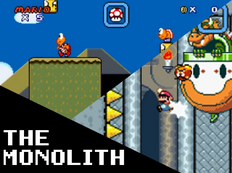 The Monolith is a Mega Tag hosted and published by Popthatcorn14 in August 2017. It was designed to celebrate the 10 year anniversary of SMF and is the largest known Mega Tag in SMF's existence. All information regarding the tag can be found on this site.
In January 2017, many users were pondering about SMF's existence since the first SMF game was made in 2007. BrokenAce proposed the idea of commemorating a big Mega Tag with 40 users, big enough to beat the length of Centrifugal Centennium and to celebrate this 10 year anniversary. Later on in the planning, he set up rules and a template everybody to use, and would later combine each separate section into a huge code. This was planned accordingly so each user could work on a section whenever they wanted. After hearing the news of a Mega Tag, Popthatcorn14 offered to host the Mega Tag after hosting 2 in the past, and BrokenAce would be the go-to guy that would receive and put each code together.
However, not all of the planning went accordingly and Popthatcorn14 eventually took control of the Mega Tag, getting a total of 28 users to join in 8 months. The idea shifted from being the longest level in length to a level of experienced and inexperienced users celebrating their favorite game's existence. It should also be noted that the level list is in alphabetical order, putting bananaramen and Xaktratax in charge of certain tasks other users weren't capable of doing in their section.
Participants
Edit
bananaramen, Blueyoshi0014, BrokenAce, camsb0326, chargingcircle, creator, dogng, FBS, IggyHopxD, Jack Mango, Jann75, LazorCozmic5, LordApoplexy, Luigibonus, MarioMaster7771, MasterKastylinos222, Orangetack, Parbounli, Popthatcorn14, Q22, qwertyquop, Retzorg, sm63ologist, The X Khraken, TheZealotGamer, Vileplume, WJT, & ​Xaktratax
The Monolith is the 2nd largest level in SMF's existence, having a whopping size of over 160,000y! Even if it beat the length of Centrifugal Centennium (208,000x), it wouldn't beat the size since it has a height as well.
The Monolith is the only known Mega Tag with a vertical height, setting it apart from others.
Originally it was planned for Brendan to post the level, but he turned the idea down and asked Popthatcorn14 to post it instead.
The Monolith took 8 months to make, beating the record of Palavering Panoptic which only took 7 months to make and had 25 users.
The Monolith currently holds the record for the largest and longest Mega Tag, having a total of 28 users.
The 3 largest Mega Tags, including The Monolith, have all been hosted by Popthatcorn14.
Ad blocker interference detected!
Wikia is a free-to-use site that makes money from advertising. We have a modified experience for viewers using ad blockers

Wikia is not accessible if you've made further modifications. Remove the custom ad blocker rule(s) and the page will load as expected.